Social Development: a child's development puzzle
From the Head of Early Years Dionne Zantua
The era of technology has afforded convenience of life in ways that many of our ancestors could never have imagined. At the tip of your fingers, life's necessities such as food shopping and transportation can be arranged almost instantly. I myself have enjoyed this convenience and to this day, I have had most of my food delivered right at my doorstep. What I do miss and rightly so, is the interaction that I experience with people. 
With many jobs now being replaced by artificial intelligence (AI), one of the skills that will still remain, and I believe will be irreplaceable, is emotional intelligence and this can only be cultivated through ongoing interactions with others.
The old adage that 'no man is an island' rings true in this week's article as our Nursery Lead Teacher, Monica Mukherjee, discusses the importance of social development in children and how it lays the foundation for all other developments. We hope you will enjoy reading it as much as I did.
From the Nursery Teacher Monica Mukherjee
When we talk about a child's development we invariably focus on their language and communication skills and physical development both gross motor and fine motor. As vitally important as these areas maybe for a child, the most critical piece of a child's development puzzle lies in their personal, social and emotional development.
 In Wellington College Bilingual Tianjin Nursery, educators recognise that all learning, and more significantly a child's wellbeing is rooted in and stems from it. It is both the starting point and end point of their learning journey in Nursery.
As the children interact with other children and adults it provides them with more opportunities to practice and learn speech and language skills. This in turn helps them react and relate to people around them. When the child is able to make friends, it results in exciting and positive experiences which helps the child to reinforce their own individuality and build self-esteem. 
Friendships often result in conflicts too and we encourage the child to resolve differences with peers building healthy relationships which has a strong impact on their social development as well as problem solving skills.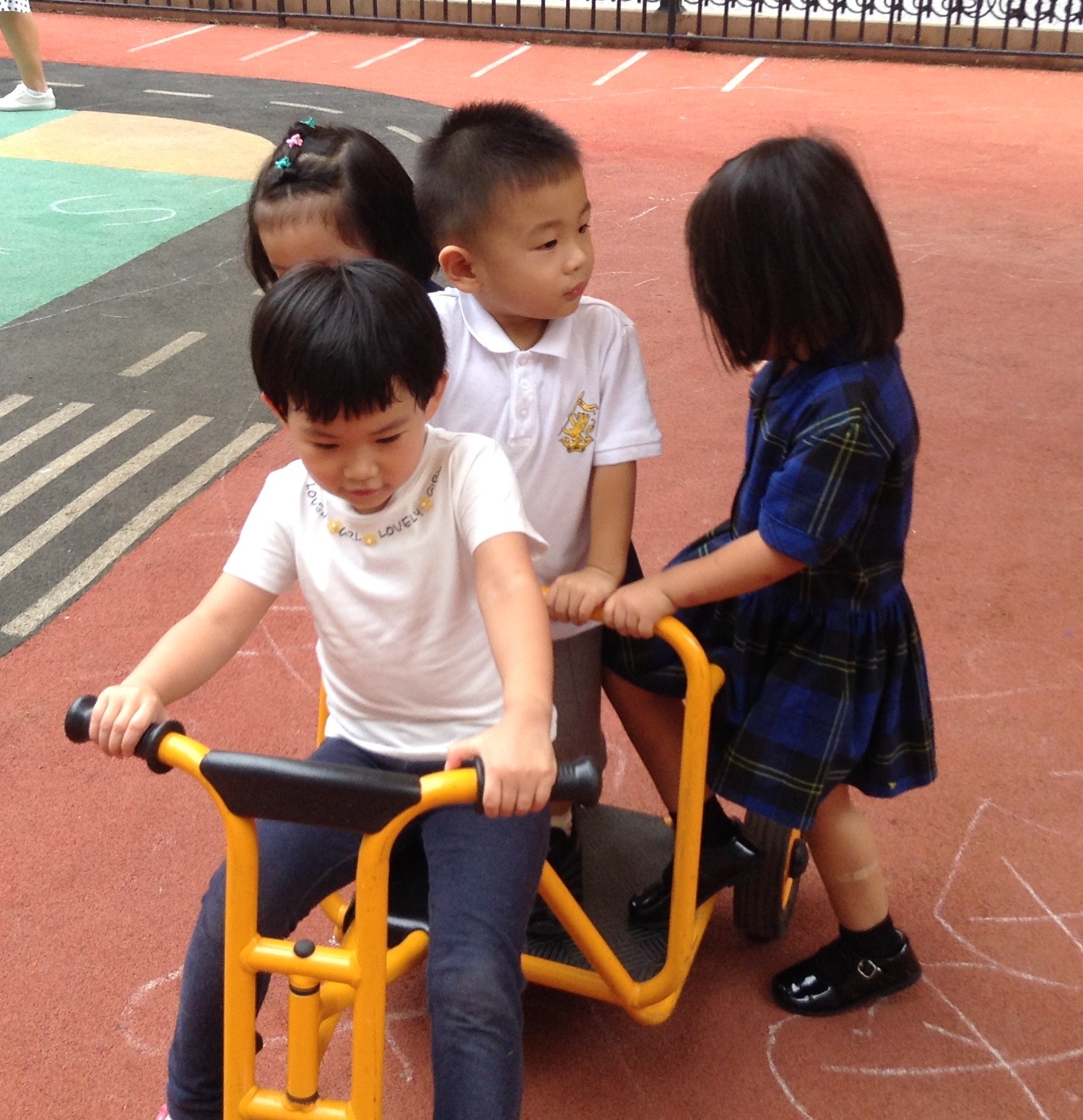 Some key strategies that assist in social development are: 
- 
Continuous provision for various areas of learning that the children can explore freely and independently, learning through their play. Teachers play with the children in a "peer-like" way to encourage cooperative play—this is helpful when they are in a group environment and have to share toys and cooperate and learn to take turns. Functioning in a group is a vital social skill.
-
Topic activities for exploring and understanding friendship and feelings helps the children to develop their interpersonal and intrapersonal skills. They are free to express emotion and affection openly, though not always accurately, but as is developmentally appropriate for them.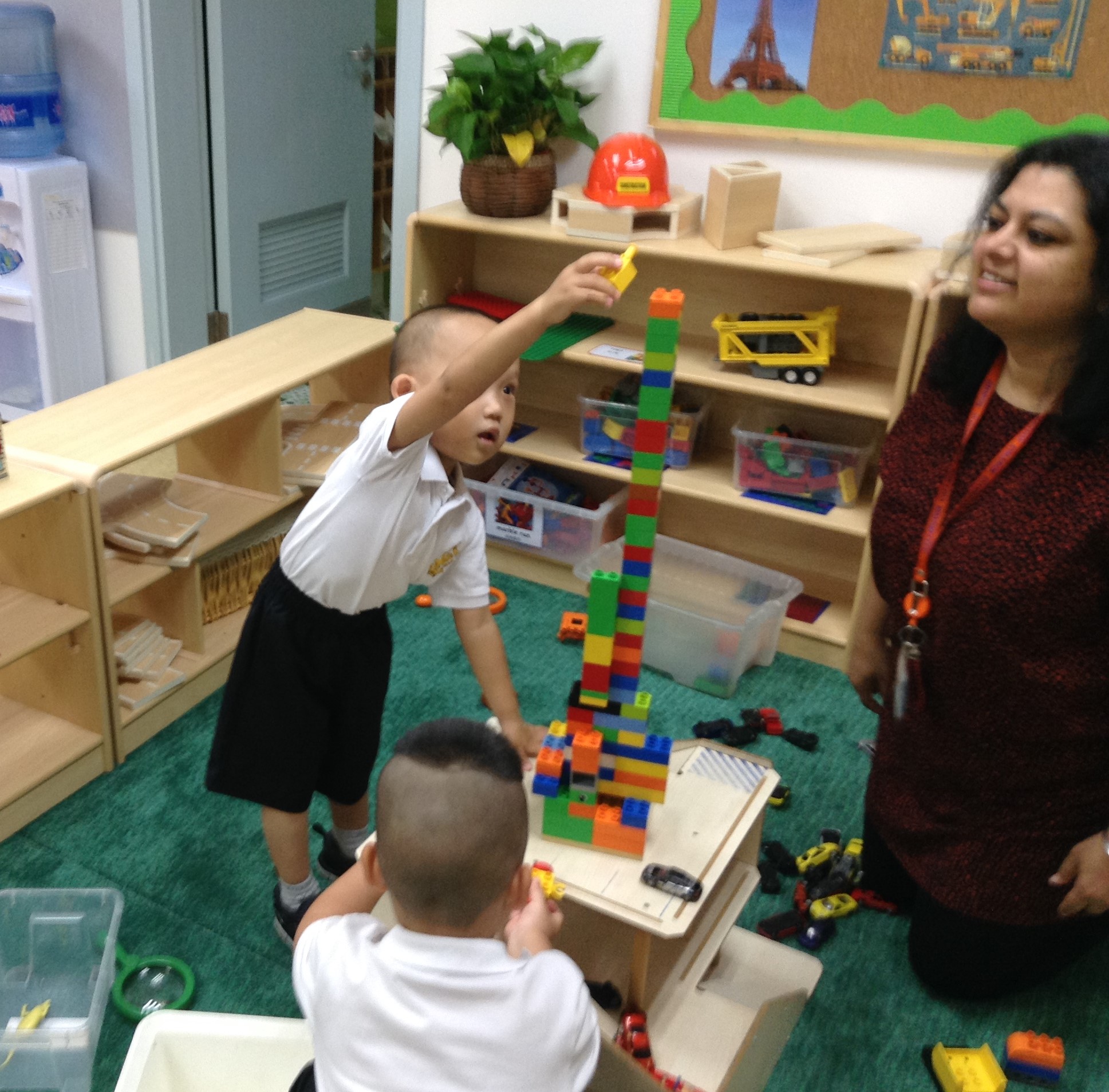 -
We let children experience, express and learn to manage negative emotions and learn how to comfort themselves. Children need to identify and express their emotions by talking through what they are feeling.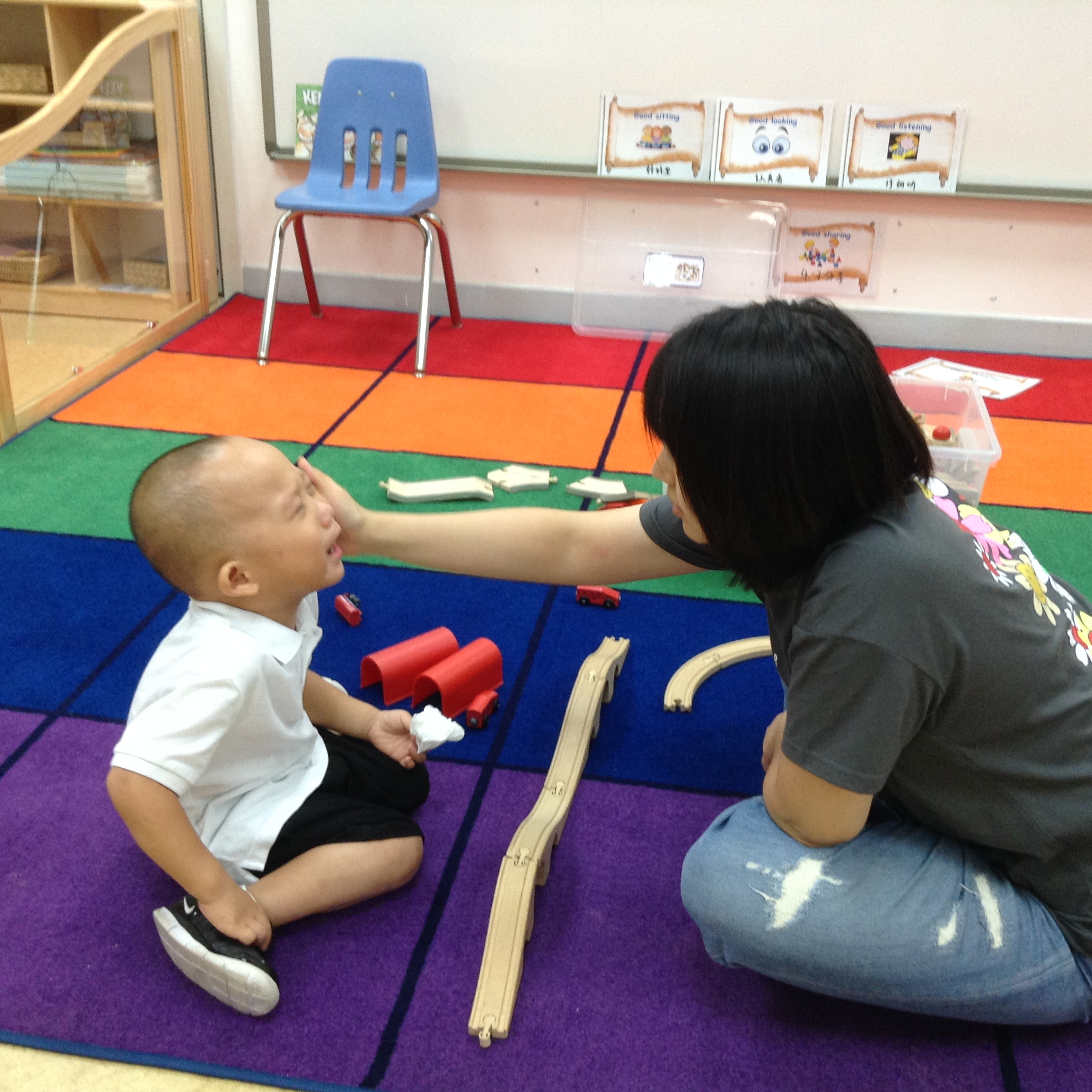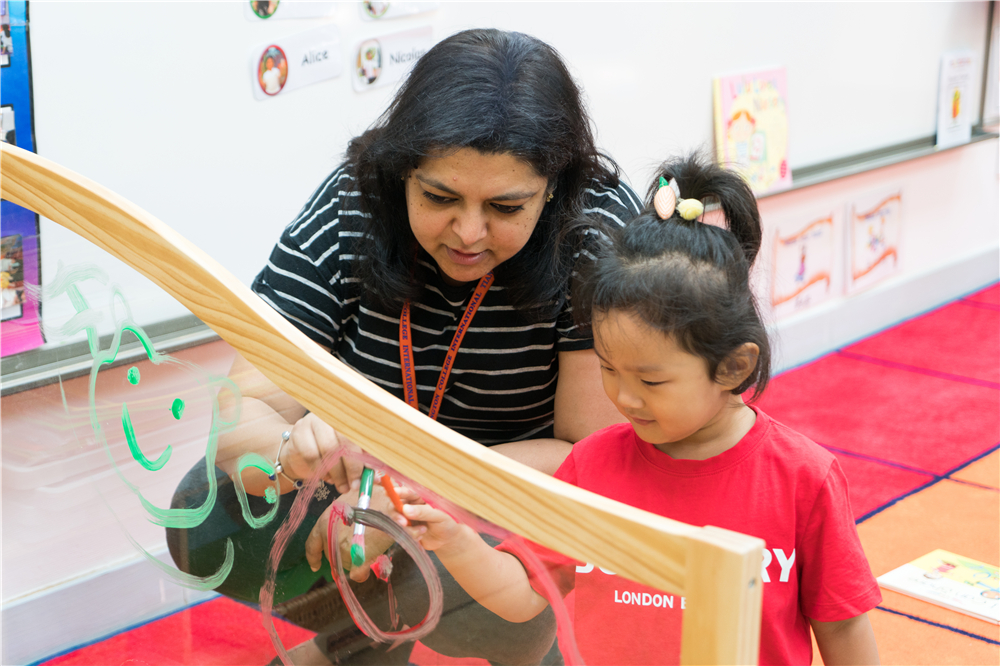 -
It is essential that children learn compassion for others from an early age. It prepares them for future relationships. We encourage them to be more aware of others' emotions. They need to look at someone in distress with sympathy and try to help them.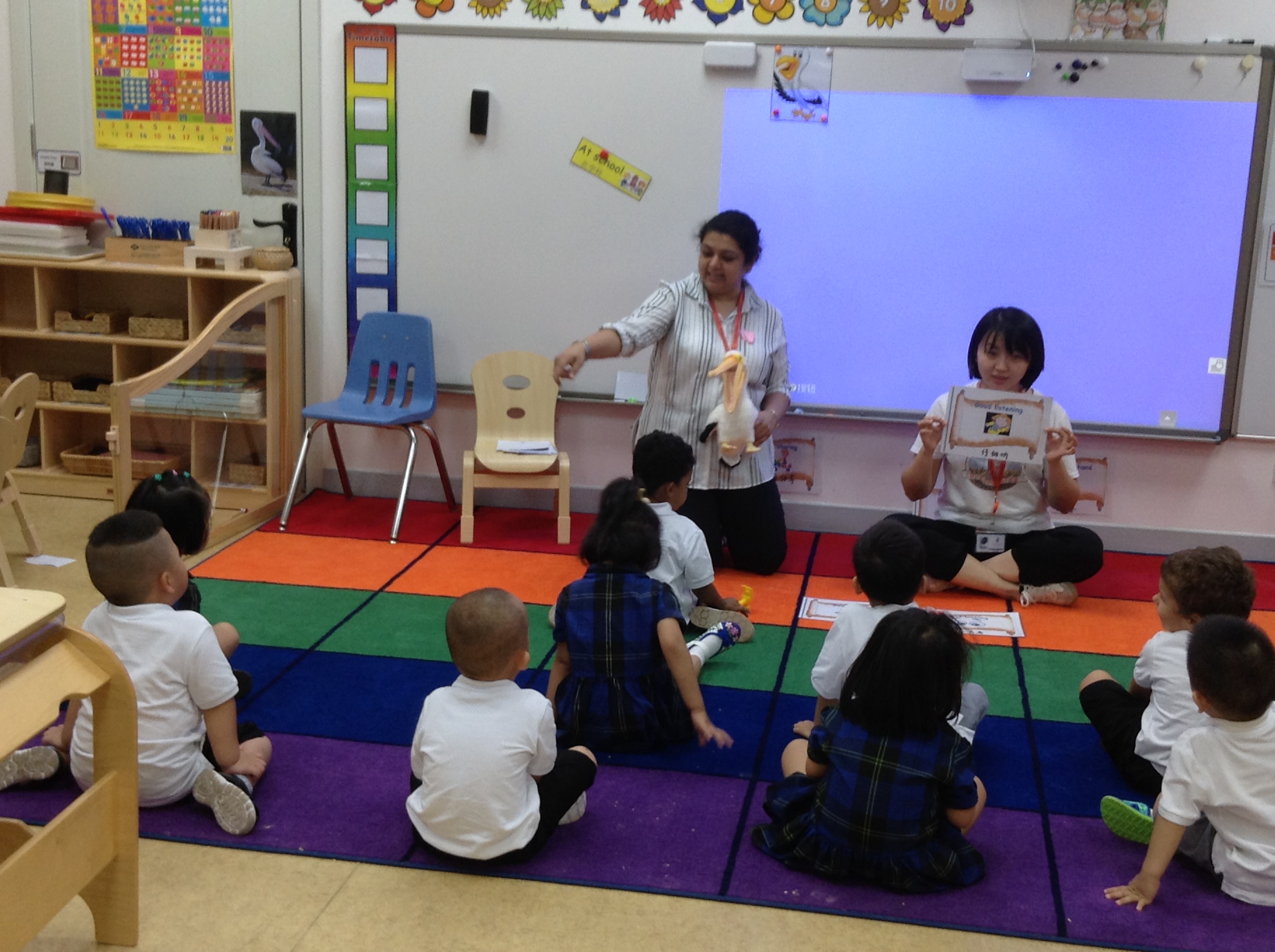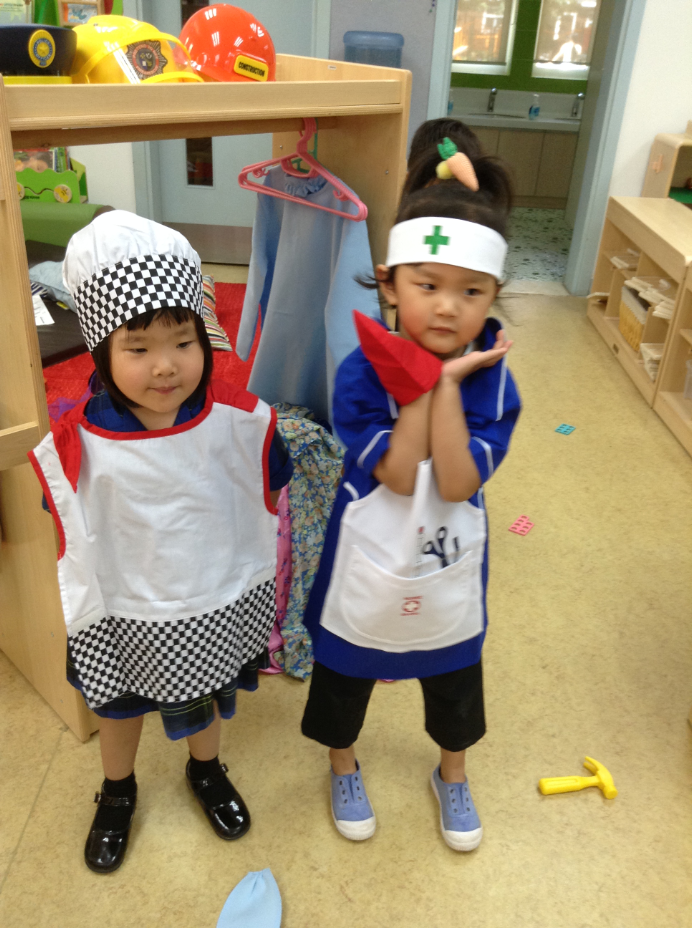 -
Finally, there is a strong focus on developing listening skills through various structured and play activities which is an important ingredient of effective communication. Good listening contributes to communication, socialisation and good behaviour management.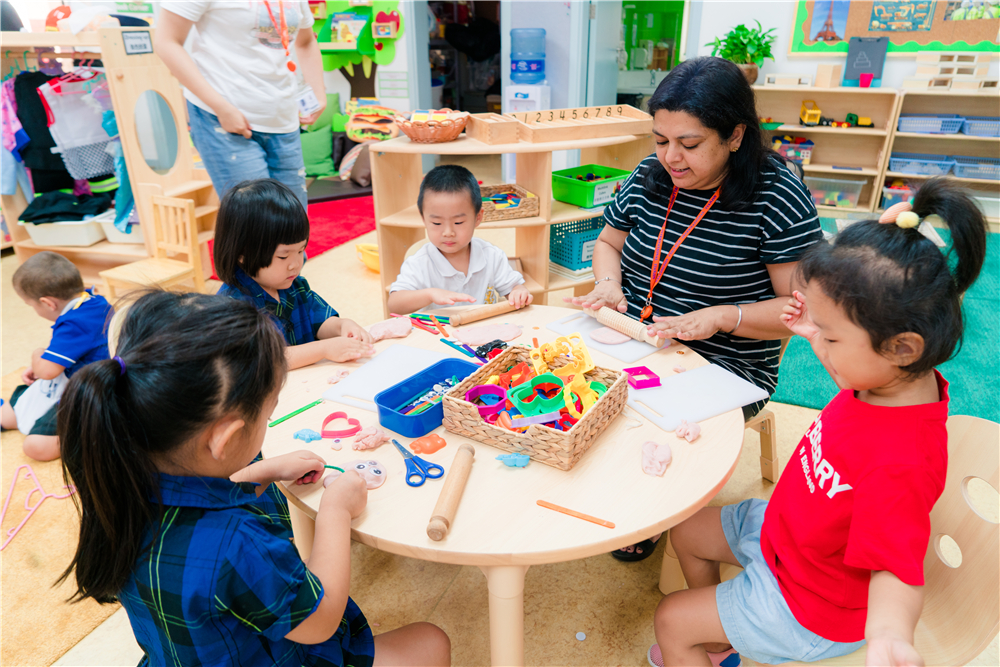 Social development may not be discussed as frequently and as much as the other developmental areas; thus, it is often hard for parents to understand and appreciate the process and to evaluate how their child is developing in this area. At Wellington College Bilingual Tianjin Nursery, we understand that children are unique with distinct personality traits and they have their own ways of learning social skills. 
Educators strive first to build a relationship and trust with each one of the children in class. After identifying the differing needs of their learners, a differentiated approach is adopted to reach them. Most importantly the children are reassured that the classroom is a safe space where they are loved, valued and respected.
MEET THE MASTER AND BURSAR
Duke of York Room
1400hrs-1500hrs, Thursday
17th October
This week's Meet the Master and Bursar slot is open to parents of pupils in all year groups. If you would like to attend, please confirm via email with Ms. Emma Shi by Wednesday 16th October. (emma.shi@wellingtoncollege.cn)
UPCOMING EVENTS
Monday 14 October 2019
All Day Week 8 (B) 8:45AM – 10:00AM FOW: French (LL) (MB 125) 11:00AM - 12:00PM Senior School assembly (JMS) (Theatre) 3:30PM ISCOT Cross country invitational (@ IST) (RG) 4:00PM ISCOT League HS Boys and Girls Volleyball vs IST (a) (RG)
Tuesday 15 October 2019
All Day UCAS deadline for university applications: Oxbridge, medicine and veterinary science (JMS) 7:30AM - 6:00PM Year 12 Art Trip to Beijing (MFC) 8:30AM - 9:30AM FOW: English class (beginner level) (MB 234) 8:45AM - 10:00AM FOW: Pilates (LL) (Black Box) 10:15AM - 11:15AM FOW: Mandarin class (LL) 1:00PM – 2:00PM FOW: How to use Chinese daily life Apps (LL) (MB 113) 4:00PM ISCOT League MS Football vs TIS: Boys @ TIS, Girls (h) (Sports Centre)
Wednesday 16 October 2019
All Day Junior School sports' day (RG) 8:45AM - 10:00AM FOW: Yoga class (LL) (Black Box)
Thursday 17 October 2019
All Day Year 7: Bring your father to school day (DP) 8:30AM – 9:30 AM FOW: EAL class (DF) 9:00AM - 10:30AM FOW: TCM class (LL) 10:45AM - 12:00PM FOW: Yoga class (LL) (Black Box) 2:00PM - 3:00PM Meet the Master and Bursar: all year groups (ES) (DoY) 7:00PM Autumn Concert: Carmina Burana (FG) (Tianjin Concert hall)
Friday 18 October 2019
8:30AM - 11:00AM FOW: Art class (LL) 8:45AM - 10:00AM FOW: Pilates (LL) (Black Box) 2:00PM - 6:00PM 6th Annual International University Fair (JMS) (Sports Hall)
Saturday 19 October 2019
9:00AM Saturday Activity Programme (SAP) (EvK)