Sparking Curiosity to Provoke Learning - Dinosaurs

Discovery abounds in Reception class as they transport back to prehistoric times as their classroom is transformed into a 'land of dinosaurs'.  There is just something magical that happens when children and dinosaurs collide.  At Wellington, we believe that curiosity and engagement is a critical motivator for learning among young children and this week, our Lead Reception Teacher, Ms Kristy Dingli, discusses how exploring dinosaurs can spark curiosity to provoke learning.
Sparking Curiosity to Provoke Learning
Dinosaurs
Children learn best when they are fully engaged in their own learning journey; but how do we make that happen? How do we get children involved, and keep them interested enough to commit to the learning process, without realizing that that is what they're doing?
They say, 'curiosity killed the cat', the idea that we should follow along a path, looking neither left nor right. However, in education, nothing could be further from the truth! Curiosity, to a teacher and their pupils, is as gold-dust to the prospector.Recently in Reception, we have been exploring the topic of dinosaurs in our learning. The children are fascinated by everything to do with dinosaurs; what were their names, what did dinosaurs eat, when did they live, what did dinosaurs look like, how big were they? Their questions are endless.
There are so many aspects of learning, which can be authentically linked to the children's own curiosities; What were their names? – Let's use the computer or look in a book to find them and read them. That's reading and technology, instantly integrated into the teaching and learning. 
What did dinosaurs eat? Well, what was around at the time of the dinosaurs? – plants and other dinosaurs – understanding the world is coming to life as they learn the difference between a Herbivore and a Carnivore.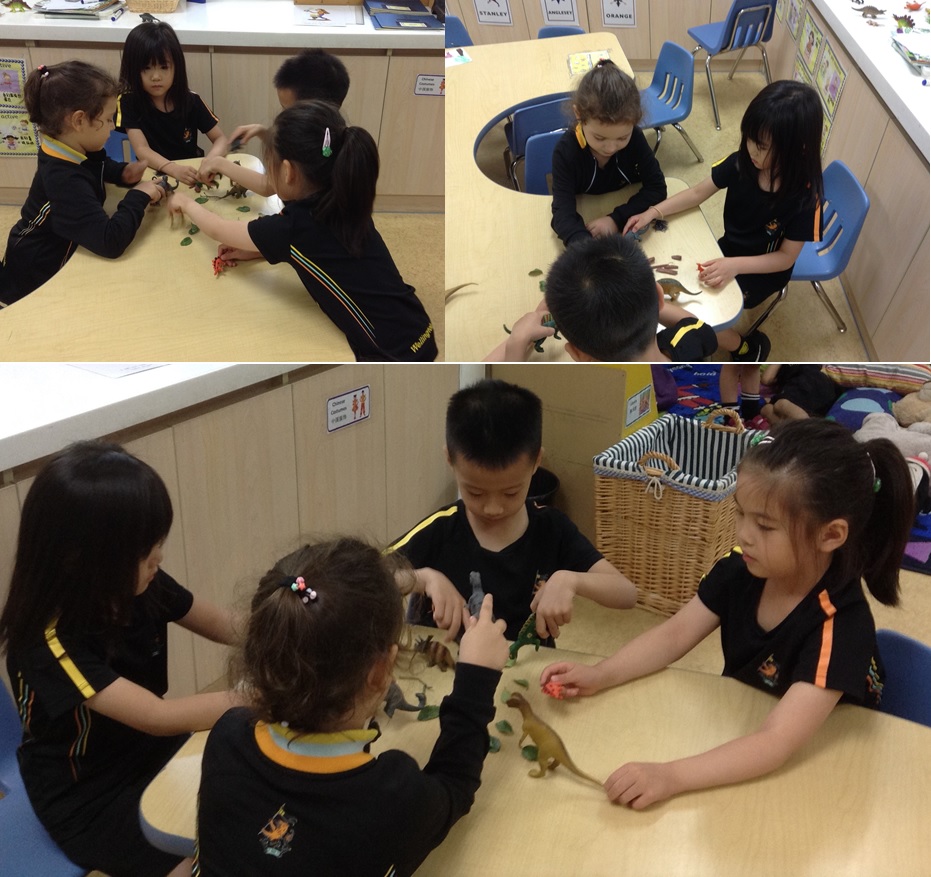 How big was the biggest dinosaur? Let's take a metre wheel outside and find out!
Metre Wheel
What did dinosaurs look like? Let's have a look at some small-world dinosaurs and some dinosaur information books to find out – talk about what you can see with your friends; we can draw our own pictures and label them too – there's communication & language, reading, writing, the world and exploring media & materials and being imaginative!
Dinosaur Writing
The possibilities for learning, when children are curious about something, are truly endless!

The best lesson to learn as an influencer of children, be that as a parent, or as a teacher is that, if you tell a child something and they may remember it, but, allow them to learn it for themselves, because they want to, and they will remember it, forever.
"I hear and I forget, I see, and I remember, I do, and I understand." (Xun Zi)

UPCOMING EVENTS
Monday 17 June 2019 All Day Nest: Transition week (DZ) (The Nest)All Day World Sports' Week begins (to 21st) (RG)All Day Art: Summer Exhibition (MFC) (Black Box Foyer) All Day Week A 8:30AM - 9:30AM FOW EAL (Beginners) (PF) (MB 235) 3:05PM - 3:45PM Senior School Assembly (JMS) (Theatre) Tuesday 18 June 2019 All Day Waterloo Day 8:45AM - 10:00AM FOW Pilates (ES) (Black Box) 10:15AM - 11:15AM FOW Mandarin Class (ES) (MB 125) Wednesday 19 June 2019 All Day A Level Induction Year (2019 entry): Open Week (to 21st) All Day Shakespeare Workshops - Globe Theatre (to 20th) (JA) (Theatre) 8:45AM - 10:00AM FOW Yoga (ES) (Black Box) 10:00AM - 11:00AM Nest Parents' Briefing: CPR Training (DZ) (Nest Library) 2:00PM - 3:45PM Year 6 Leavers' Assembly (RA) (Theatre) Thursday 20 June 2019 9:00AM - 10:30AM FOW: Traditional Chinese Medicine (TCM) (ES) (WCA Room) 9:00AM - 12:00PM FOW Reading Group (ES) (MB 125) 10:45AM - 12:00PM FOW: Yoga (ES) (Black Box) Friday 21 June 2019 All Day Year 12 Higher Education Day (JMS) (Main Building) 8:30AM - 9:00AM Nest Assembly: Eaglets (DZ) (Theatre) 8:30AM - 9:30AM FOW EAL (Advanced) (PF) (MB 231) 8:30AM - 11:00AM FOW Art Class (KM) (MB 125) 8:45AM - 10:00AM FOW Pilates (ES) (Black Box) 6:00PM Summer Concert (FG) (Theatre)