How To Cope With Transition

Starting a new academic year can become a challenging time for many children and their families but with the support and encouragement of a caring adult and a positive and predictable learning environment, we can help them manage stress and gain skills and competencies from this new experience. Here at Wellington College Bilingual Tianjin Nursery, we understand this challenge and so we plan creative, fun and interactive transition day activities that allow pupils and parents to become familiar with their new class before the first day of school in August.
A briefing was held for incoming Reception and Year 1 parents on Tuesday 11th June, to introduce parents to their child's new teachers and discuss topics such as classroom expectations and what changes they will notice from the current year group.  All Nest children were able to participate in a 'move up' day along with the rest of the school on Thursday 13th June.  They had an opportunity to experience time in their future classrooms including routines and expectations as well as meet their teachers and begin forging bonds with their peers.
This process of getting children ready to transition into a new school year should continue well into the summer holidays.  According to Dr. Sharon Sevier (2014), the following ways can help your children navigate challenges they may face and get them excited about the fun learning ahead:
Always talk positively about going to school

 – our children can mirror our emotions and they can sense our anxieties, so staying positive about school can help them feel positive about it too!

Talk to them about details of their new class

 – children feel safe when they know what to expect and sharing their schedule and routines will help them become more confident of their new class.

Bedtime routines

 – a few weeks before school starts, make sure that your child has settled into a bedtime routine and a sleeping schedule of no less than 8-10 hours per night for our Nest children.

Be prepared for crying

 - not yours, I hope but instead your child's. It is important that parents remain firm when children begin to cry before and during drop off to school.  Reassure them that they will be fine and that teachers are there to care for them.  If you have genuine concerns, please let the teachers know so they can help with specific support.

Read as many books with your child as you can

 – this not only helps in laying a foundation for literacy but also allows parents to spend quality time of learning together.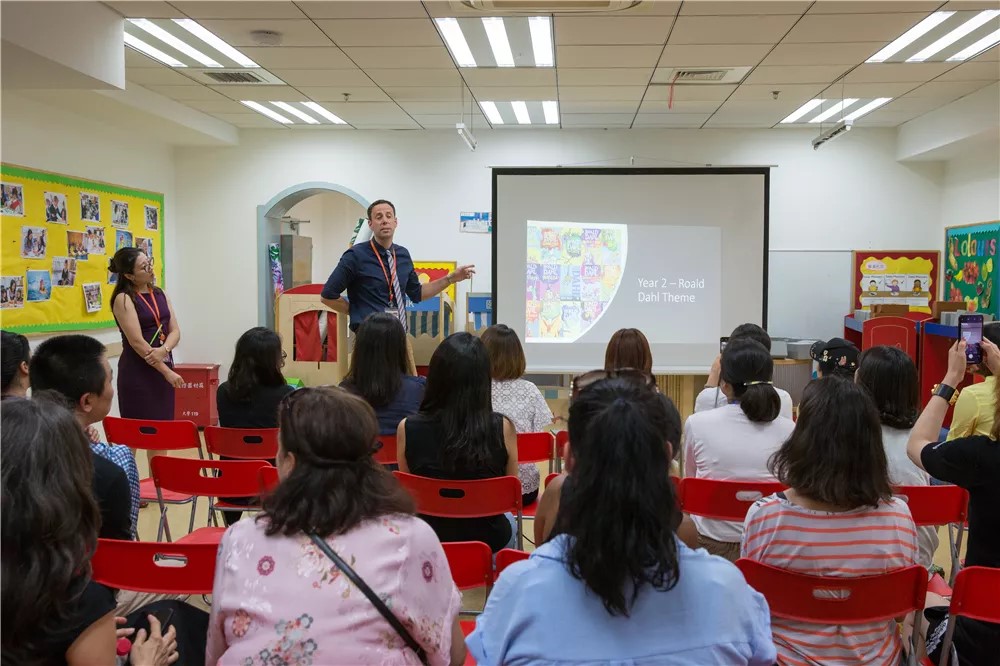 Reception and Y1 transition parent briefings
'Move up day' for Nest children
I hope that you will find these tips helpful and please remember to save the date for our beginning of the year classroom briefing on Tuesday 20th August at the Nest.
Reference:
Sevier, S. (2014). Retrieved from http://www.parenttoolkit.com/academics/news/back-to-school/guiding-our-children-through-school-transitions-elementary-school

Monday 24 June 2019 All Day Year 12 Higher Education Day (ii) (JMS) (Main Building) All Day Week B 8:30AM - 9:30AM FOW EAL (Beginners) (PF) (MB 235) 1:20PM Macbeth (LC)(Theatre) 3:05PM - 3:45PM Senior School Assembly (JMS) (Theatre) Tuesday 25 June 2019 8:45AM - 10:00AM FOW Pilates (ES) (Black Box) 10:15AM - 11:15AM FOW Mandarin Class (ES) (MB 125) 1:30PM - 3:30PM Science Fair (CI) (Black Box) 6:00PM – 7:00PM Macbeth (LC)(Theatre) Wednesday 26 June 2019 8:45AM - 10:00AM FOW Yoga (ES) (Black Box) 2:00PM Milepost 3 Trip and Exit Point (RA) (Main Building) 6:00PM - 7:30PM Jasmine Concert (FG) Thursday 27 June 2019 9:00AM - 10:30AM FOW: Traditional Chinese Medicine (TCM) (ES) (WCA Room) 9:00AM - 12:00PM FOW Reading Group (ES) (MB 125) 10:45AM - 12:00PM FOW: Yoga (ES) (Black Box) 3:05PM - 3:45PM Junior School Assembly (RA) (Theatre) Friday 28 June 2019 8:30AM - 9:00AM Nest Assembly (DZ) (Theatre) 8:30AM - 9:30AM FOW EAL (Advanced) (PF) (MB 231) 8:30AM - 11:00AM FOW Art Class (KM) (MB 125) 8:45AM - 10:00AM FOW Pilates (ES) (Black Box) 3:30PM Summer Terms ends (ES) 3:45PM Nest: Pupil reports published (DZ) 5:00PM Senior School reports published (DP) 5:00PM Junior School reports published (RA) Saturday 29 June 2019 10:30AM A Level Scholarship Interviews (external) (YY) (Main Building)