Life is education, a day of life is curriculum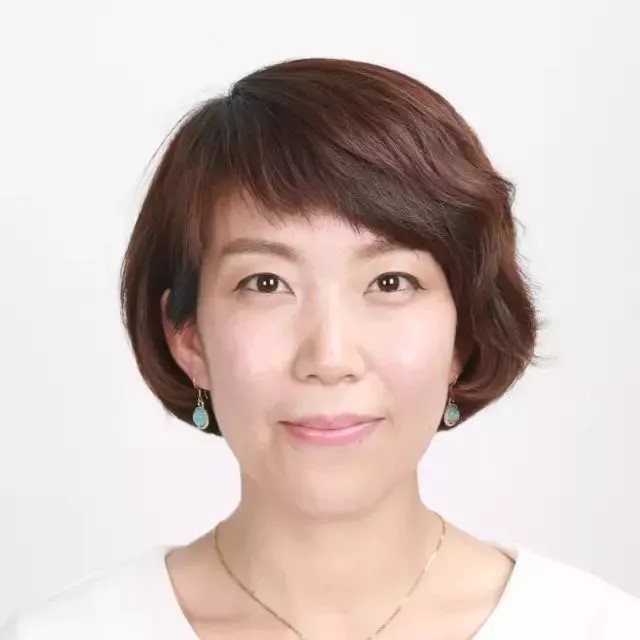 Ms. Lisa Li
Duputy Head of Early Years
Time flies and children have been in school for nearly two months and I believe many parents would like to know what children learn and what we teach in the Nest. They are curious about what children learn and do and why routine is important.
In this article, I would like to share with you a day of a child in our Nest in order to let parents gradually understand our program. Our goal is to lay a good foundation for the child's growth in life. 
One day schedule in the Nest
The educational activities in the nursery are purposeful, planned and organised. The purpose of educational activities is reflected in every link of the daily process because each link of a child's daily life has educational value:
8:00 a.m: Morning greeting
Let children say goodbye to their parents happily and make them feel secure about the teachers and the Nursery.
8:30 a.m: Free time activities
From the first minute of entering the Nest in the morning to the last second parents leave, all activities experienced by the children to fall within the scope of the curriculum.  If the educational value of each link of the daily process is effective, then the learning and development potential of children can be realised to the greatest extent. Teachers will use this opportunity to build a positive relationship with children and during these interactions, observe and incorporate learning into their play. We believe that every moment of interaction with children is learning, and we are delivering and educational value. This is the nature of the early year's education process, day in and day out, carefully shaping the mind of a citizen of the future.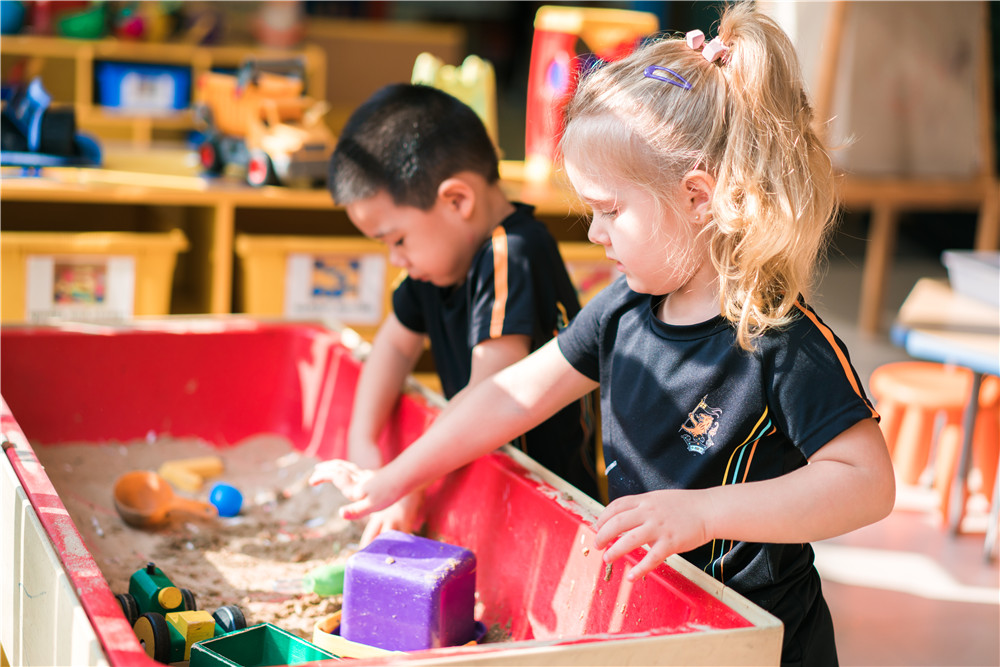 10:00 a.m: Snack Time
Wash your hands and wait patiently in line when you go to the toilet. Learn Math through the concept of time by learning when is lunch or snack.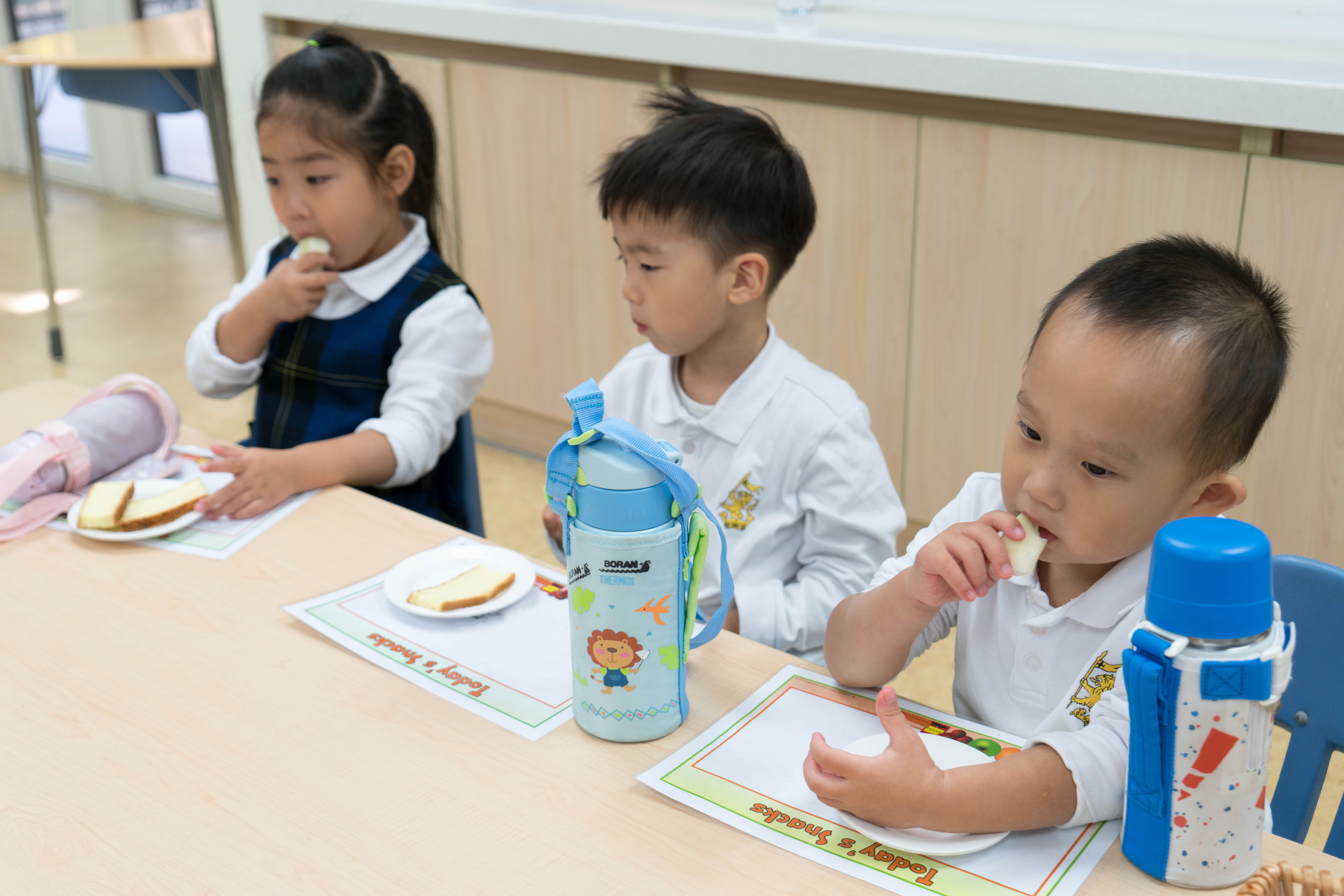 10:30 a.m: Outdoor time
While standing in line, learn to keep your distance from each other as a sign of respect. Learn to be humble and follow the rules also learning a sense of responsibility.  They will also learn the concept of ordinal numbers in Maths by knowing who is first, second, third, etc. Outdoor exercise can develop children's core muscles and big movements, and it is also a place where children often have conflicts, so we think it is a perfect opportunity for children to develop social skills.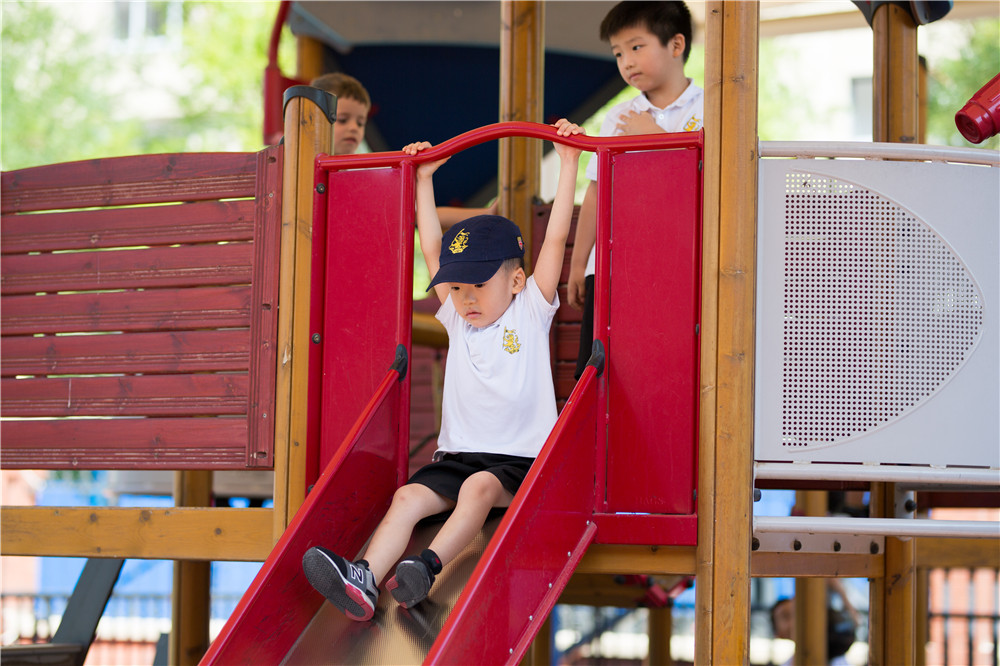 12:00 a.m: Lunch Time
During mealtimes, teachers model proper table manners. It is a great opportunity to foster independence such as serving their own food and tidying their plates and utensils. Conversations during this time supports children's social skills and the opportunity to develop their language ability, teachers and children can talk about various topics such as nutrition and healthy habits.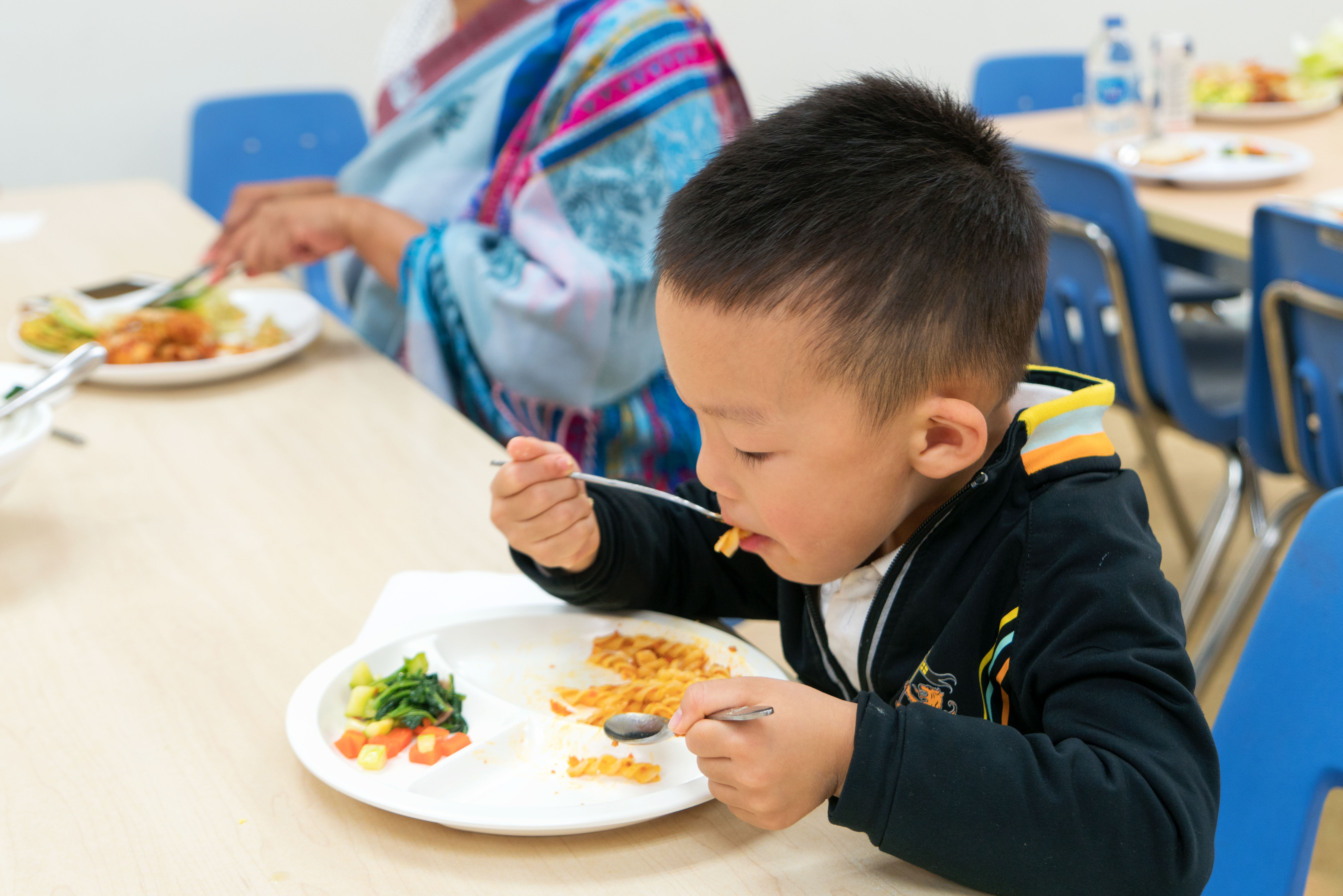 Group activities in the morning and afternoon
Let the children have a sense of belonging as 'members' in the class. Teachers can discuss the activities of the day so they are made aware of their daily schedule. Fostering engagement with the children allows them to build confidence knowing their opinions matter and they are respected even as young children.
In the group teaching
Teachers know the children on an individual level and by doing so they can support their learning to what suits their abilities and potential.
Famous educator Xingzhi Tao said that 
"life is education, a day of life is curriculum."
That is to say
we cannot only think of collective activities as children's learning activities but should be the children's daily life as each link are endowed with educational significance, to achieve life education and educational life. 
Every day is a wonderful beginning, and I believe children will thrive in a happy and well-planned day.
FROM THE PASTORAL AND SAFEGUARDING LEAD
Halloween Parade and Fancy-Dress Day
Wednesday, 30th October
All students are welcome to dress up for the whole day in their Halloween bests. There will be a Halloween Parade led by the Junior School at 1035hrs. The Senior School will be joined by Milepost 3 in the Seldon Theatre at 1500hrs for the "Halloween's Best Dressed Competition" so there will not be a Junior School Assembly in the Theatre. Students are expected to donate 10RMB to dress up and class teachers and housemasters will collect on the day. Money will be donated to a local charity. Happy Halloween!

FROM THE CHARITY COORDINATOR
'Movember'
Start on Friday, 1st November
We at Wellington care about raising awareness for different problems our society faces. October is a Breast Cancer Awareness month and our amazing Wellington mums have helped us raise over 14,000 RMB for this great cause. November will be a month dedicated to men's health. Each year people around the world get involved in the movement known as 'Movember' (a portmanteau of the diminutive word for moustache, "mo", and "November").  As it says in BJU International (a leading urology journal), 
'Each November, participants raise awareness and money for men's health by growing a moustache. As the month goes on, and the moustache takes shape, these men become walking and talking men's health billboards. Participants use their moustache to facilitate conversations about a wide variety of men's health issues including prostate cancer, testicular cancer, and men's mental health. They also actively raise money for the Movember Foundation by asking family and friends to donate to their efforts.'
You might have seen our teachers walking around the school with their moustaches in previous years. This time we would like to invite our Wellington dads to join us! In order to help us raise awareness you should follow the following rules:
Begin on 1st November with a clean-shaven face.
Ask your child to take a photo of you and donate 100RMB (your child can give donation to their class teacher or Housemaster)
You must grow and groom a moustache for the whole month.
You cannot have a beard - which means no joining your sideburns to your beard.
Nor can you join your chin to your handlebars.
Pupils and staff will then donate by voting for a winner at the end of the month.
All the funds raised will be donated to the Movember Foundation. Our goal is to raise 5000 RMB and Mr Jeffrey has pledged to double the amount if we reach that total. Please help us to achieve it!

French
Every Monday 8:45-10:00 MB125 Mrs Audrey Barthelemy audrey.barthelemy18@gmail.com
Art
Every Friday 8:30-11:00 MB125 Mrs Markovic ksenija.jakic@wellingtoncollege.cn
Mandarin
Every Tuesday 10:15-11:15 MB125 Mrs Yuan and Mrs Zhang yizhang001@foxmail.com
EAL (Beginner level)
Every Tuesday of Week A 8:30-9:30 MB125 Mr Furse David.Furse@wellingtoncollege.cn
EAL (Advanced level)
Every Thursday of Week B 8:30-9:30 MB125 Mr Furse David.Furse@wellingtoncollege.cn
Pilates
Every Tuesday 8:45-10:00 Black Box Mrs Stofkova dstofkova@yahoo.com
How to use Chinese daily life Apps
Every Tuesday 13:00-14:00 MB113 Mrs Kim donghong0904@naver.com
Pilates
Every Friday 8:45-10:00 Black Box Mrs Stofkova dstofkova@yahoo.com
Yoga
Every Wednesday 8:45-10:00 Black Box Mrs Havlíková havlikann@gmail.com
Yoga
Every Thursday 10:45-12:00 Black Box Mrs Havlíková havlikann@gmail.com
Traditional Chinese Medicine
Every Thursday 9:00-10:30 MB113 Mrs Markovic ksenija.jakic@gmail.com
Notice: 
Any changes of time/date/venue please follow the notice according to the course organiser.

UPCOMING EVENTS
Monday 28 October 2019
All Day Week 10 (B) 8:45AM – 10:00AM FOW: French (LL) (MB 125) 11:00AM - 12:00PM Senior School assembly (JMS) (Theatre)
Tuesday 29 October 2019
8:45AM - 10:00AM FOW: Pilates (LL) (Black Box) 10:15AM - 11:15AM FOW: Mandarin class (LL) (MB 113) 1:00PM – 2:00PM FOW: How to use Chinese daily life Apps (LL) (MB 113) 4:00PM KS5 assembly (DT) (Black Box) 5:00PM Senior School parents' evening: Year 11 (both streams) (DP) (Main Building)
Wednesday 30 October 2019
8:45AM - 10:00AM FOW: Yoga class (LL) (Black Box) 9:00AM - 10:15AM Y5&Y6 Parent Briefing: The Journey of a Wellingtonian (RA) (Common Room) 3:05PM - 3:45PM Halloween parade (TCR)
Thursday 31 October 2019
8:30AM - 9:30AM FOW: English class (advanced level) (MB 234) 9:00AM - 10:30AM FOW: TCM class (LL) 10:45AM - 12:00PM FOW: Yoga class (LL) (Black Box) 3:30PM - 5:15PM Academic Sub-Committee (ES) (Duke of York room) 5:00PM Senior School parents' evening: Years 12 and 13 (DP) (Main Building)
Friday 01 November 2019
All Day University admissions: US early action/early decision deadlines commence (JMS) 8:30AM - 11:00AM FOW: Art class (LL) 8:45AM - 10:00AM FOW: Pilates (LL) (Black Box) 1:25PM - 1:55PM Lunchtime concert (FG) (Black Box) 5:30PM - 7:15PM Facilities and Services Sub-committee (CL) (Duke of York room)
Saturday 02 November 2019
8:00AM College Board SAT examination (JMS) (Main Building) 9:00AM ISCOT Tournament Year 4 – 6 Boys and Girls Table Tennis (@ TIS) (RG) 9:00AM Saturday Activity Programme (SAP) (EvK)