The Week Ahead 22 March 2019
Pupils and staff have been discussing the appalling events that unfolded in Christchurch, New Zealand last Friday. This is not a surprise; we have several families with roots there, as well as many who have holidayed in that beautiful country. The shootings have shocked the world, once again bringing to our screens and newspapers horrific images and testimonies of survivors and rescuers; even some of our youngest pupils will have been exposed to such scenes. This is not the usual content for one of my Week Ahead pieces. I try not to focus on the gloomy news from around the world, preferring instead to highlight the positive education we are bringing to our corner of Tianjin, but the events of last week have set me thinking about ways in which we, as responsible and reflective teachers, prepare our pupils for the real world. Something in the background of the gunman has left him drenched in hatred, a hatred so irrational it became focused on the religious affiliation of a group of otherwise unconnected, innocent people. The exact cause for his actions may never be fully understood, but what is clear is that he (and others like him) have become possessed by an ideology that made such unspeakable events possible. This man seems to have been motivated by virulent Islamophobia, but it could just as easily have been racism, anti-Semitism, homophobia, or indeed any other kind of 'hate crime' – the colour of one's skin, or one's nationality, can provide, for those at the margins of society, sufficient reason for murderous violence. One of the pleasures of enduring what is politely termed a 'significant' birthday recently meant that I got some interesting presents; gifts a little more thought-provoking than the usual collection of socks and ties. One that struck a particular cord was a DNA testing kit. These are increasingly popular, as people have at their fingertips a new and powerful tool for looking back into their ancestry. I knew mine would be quite mixed as I come from a bilingual family - my father was British and my mother is from Holland – but even then, the results were quite a surprise. I have ancestors from all across Europe, with the majority of my genes descending from central and southern regions, and only 30% from western parts of the continent. Clearly, I am from very mixed stock! The three Heads of School are from equally diverse backgrounds, as of course are the rest of the staff and pupil body. We are a genuinely international school, bound by both our commitment to Tianjin, but also to our vision of a holistic education. These things, as well as our differences of ethnicity, religion, mother tongue or orientation, bind us closer as a community, rather than set us apart. All Wellington schools celebrate the variety of people who go to make up their communities and each is dedicated to educating its pupils in the ways of tolerance and respect. It is through education, through modelling these virtues of tolerance and respect on a daily basis, that we work to stop any one group of people claiming inherent superiority over another. Internationalism and interculturalism, such core parts of being a CIS accredited school, lie at the heart of our work with your children. Next week is internationalism week here at school; we will seek to shine a light on the issues that face us in the 21st Century, from the importance of critical thinking in the age of 'fake news', to a reflection on our own personal responsibility in making the world beyond Wellington a more peaceful place. I hope too that, after this traumatic week for so many of us, we can use the time over the coming days to resolve to make a commitment to understanding one another more, to confronting prejudice where we find it and to building a community of learners who will, in turn, go on to help others lead better lives. Best wishes Julian Jeffrey MASTER

The quality and stability of a child's human relationships in the early years lay the foundation for a wide range of later developmental outcomes.
– National Scientific Council on the Developing Child (2004)
Very early on in my teaching career, I had made it a point that establishing a strong and stable relationship with my pupils would be my priority. Understanding that children who have forged strong connections with their teachers will be excited to come to school, have a positive outlook on learning and therefore will achieve more (NSCDC, 2004). The process of this relationship starts very early on before children begin their learning in the Nest. Teachers will learn as much as they can about the child through communication with the parents and initial classroom interactions during the admissions process. Once the child begins, there is a specialised induction process to help the child gradually adjust to the new situation and environment. This relationship will continue to grow as the teacher begins to know the child more deeply in his personality, interests and ways of learning through daily interactions and play. Other relationships that are forged are friendships with peers as well as additional teachers in the class. This establishes the child's sense of belonging that will in turn develop into self-confidence and impact his motivation to learn, make the right choices and help raise school achievement. This week, I had the pleasure to meet some of my old pupils in the Junior School dining hall and what a delight to see their faces as they greeted me enthusiastically. At that moment I felt a sense of pride to see them older, mature and seemingly wiser. It was then that I told myself, 'we did something right in the early years…..' We will wrap up the term with our much-awaited Easter at the Nest on Friday, 29th March and the highlight will be a visit from the Easter Bunny. Children can come in their favourite spring outfit to celebrate the occasion. Please remember that dismissal on this day is at 3.15 pm. Reference: National Scientific Council on the Developing Child. (2004). Young children develop in an environment of relationships. Working Paper No. 1. Retrieved from http://www.developingchild.net

Eaglets News
Next week we are working on Easter crafts and going on an Easter egg hunt, hoping to see the Easter Bunny. Our story will be, "Spot the Dog, Where Are the Easter Eggs?" Our songs to learn are "10 Little Bunnies", "Sleeping Bunnies" and "Little Peter Rabbit". We will of course make a visit to feed the Wellington rabbits.

Nursery News
We concluded our topic of Transport by looking at different kinds of boats and how they are useful. The level of engagement and creativity by the students in this topic was on a different scale, quite courageous and positive. They made a number of impressive crafts, 2D and 3D alike. The week culminated with a marvelous and fascinating boat trip. We thank all the parents for bringing in resources for our crafts and joining us for the trip as well. Next week we start out topic "Easter" and we have planned interesting activities for the children to engage in including, spring walk in the school grounds, paint the Easter bunny in bright spring colours, and the Easter egg decoration and hunt. The Easter theme will perfectly link with our numeracy concepts of numbers, ordering and estimations. Our story of the week will be "Maisy's Seasons" by Lucy Cousins.

Reception News
This week in Reception we have continued exploring a variety of Minibeasts. The children have been very excited, and we engaged in learning about all sorts of creepy crawlies. We have been able to look closely at crickets in the classroom, including beetles, ants, and snails outside on our Adventure-Learning Walks. Our "Minibeast" Investigation has provoked many discussions about what sorts of creatures the children have found on their holidays, in their gardens, at school and whether they have been brave enough to touch one! The highlight so far has been the 5 Crickets in the classroom. Every morning the children have come into the classroom to check that the crickets are still singing, moving and eating. Next week we will continue to talk about and recognize symmetry in shapes and in the environment. We'll also try our hands at some Problem-Solving activities (halving/sharing) and compare the size – length - of Minibeasts. In Literacy we will label Minibeasts, write and try to answer some questions about them and write Minibeast facts. We may even have a go at writing a Minibeast Story.

Year 1 News
This week we will be wrapping up all our units of work. On Monday, we would like students to bring in one of their special toys from home for a toy sleep over. Students must be willing to allow their toy to stay at school overnight. We have assured them that they will be here on Tuesday! Please see the invitation that went home Friday. Our Milepost 1 Exit Point will be on Wednesday, 27th of March 2019. It will be held from 11:00-12:00 in the Nest, Room 206. We look forward to seeing you there!

FROM MR ROUNDELL, EAL DEPARTMENT
Internationalism Week
Wellington College International Tianjin will celebrate its pupils' national identities on the final day of term with a whole school International Dress-Up Day on Friday 29th March. All pupils from Nest to Year 13 are encouraged to dress up in costumes from their nations. During the week, students will also be focusing on a variety of internationalist themed mini-quizzes touching on a variety of subjects: history, geography, politics, sociology, international relations and language. There will many house-points up for grabs. Finally, a challenge to all our parent community! How many nations do you think are represented in the pupil body of our school? Email me your answer along with the name of your child. If you are correct, I will give your son/daughter 5 house points! (toby.roundell@wellingtoncollege.cn) I will reveal the correct number in next week's week ahead.


FROM THE HEAD OF EARLY YEARS
Easter at the Nest
Friday, 29th March
To welcome spring, the Nest will be hosting its much-awaited annual Easter Egg Hunt on Friday 29th March. Children will participate in spring-themed activities and will be hunting for Easter eggs. The highlight of the day will be a special visit from the Easter bunny.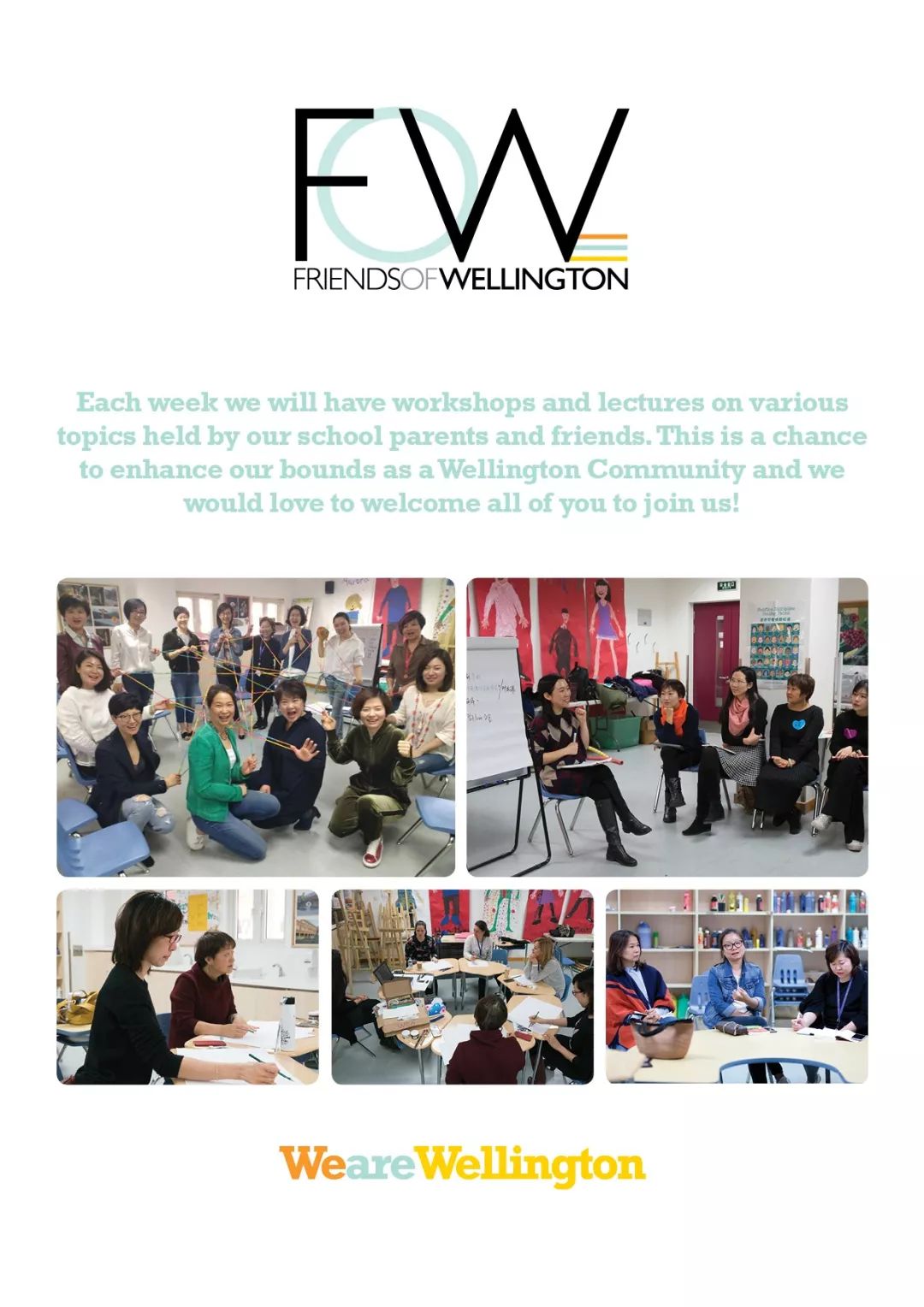 Art
Every Friday 8:30-11:00 MB125 Mrs Markovic ksenija.jakic@gmail.com
Reading club
Every Thursday 9:00-12:00 MB125 Mrs Wang 712205@qq.com
Mandarin
Every Tuesday 10:15-11:15 MB125 Mrs Yuan and Mrs Zhang yizhang001@foxmail.com
EAL (lower level)
Every Monday 8:30-9:30 MB231 Mr Findlay paul.findlay@wellingtoncollege.cn
EAL (higher level)
Every Friday 8:30-9:30 MB231 Mr Findlay paul.findlay@wellingtoncollege.cn
Pilates
Every Tuesday 8:45-10:00 Black Box Mrs Stofkova dstofkova@yahoo.com
Pilates
Every Friday 8:45-10:00 Black Box Mrs Stofkova dstofkova@yahoo.com
Yoga
Every Monday 8:45-10:00 Black Box Mrs Havlíková havlikann@gmail.com
Yoga
Every Wednesday 8:45-10:00 Black Box Mrs Havlíková havlikann@gmail.com
Traditional Chinese Medicine
Every Thursday 9:00-10:30 MB207 Mrs Markovic ksenija.jakic@gmail.com
Notice: Any changes of time/date/venue please follow the notice according to the course organizer.

UPCOMING EVENTS
Monday 25 March 2019
All Day Internationalism Week (to 29th) (TCR) 8:30AM - 9:30AM FOW EAL (Beginners) (PF) (MB 235) 8:45AM - 10:00AM Senior School Assembly (JMS) (Theatre) 3:05PM - 3:45PM FOW: Yoga (ES) (Black Box) 4:00PM - 6:00PM HS Boys & Girls Football vs IST (h) (RG) (Sports Centre)
Tuesday 26 March 2019
8:45AM - 10:00AM FOW Pilates (ES) (Black Box) 10:15AM - 11:15AM FOW Mandarin Class (ES) (MB 125) 2:00PM Milepost 1 Exit Point (RA) (Main Building) 4:00PM - 6:00PM MS Boys & Girls Basketball vs TEDA (a) (RG)
Wednesday 27 March 2019
8:45AM - 10:00AM FOW Yoga (ES) (Black Box) 9:30AM – 10:30AM University Guidance Coffee Morning (JS) 2:00PM Milepost 3 Exit Point (RA) (Main Building) 3:05PM - 3:45PM Junior School Assembly (RA) (Theatre)
Thursday 28 March 2019
9:00AM - 10:30AM FOW: Traditional Chinese Medicine (TCM) (ES) (WCA Room) 9:00AM - 12:00PM FOW Reading Group (ES) (MB 125) 2:00PM Milepost 2 Exit Point (RA) (Main Building) 2:00PM - 3:15PM Meet the Master: Year 7-11 parents (ES) (Duke of York room) 4:00PM - 6:00PM MS Boys Basketball vs TIS (h) (RG) (Sports Centre)
Friday 29 March 2019
All Day International Dress-Up Day All Day Easter at the Nest (DZ) (Nest) 8:30AM - 9:00AM Nest Assembly (DZ) (Theatre) 8:30AM - 9:30AM FOW EAL (Advanced) (PF) (MB 231) 8:30AM - 11:00AM FOW Art Class (KM) (MB 125) 8:45AM - 10:00AM FOW Pilates (ES) (Black Box) 3:45PM Lent Term ends (ES) 5:00PM Senior School reports published (DP) 6:00PM Academy Programme ends (EvK)