Festival of Education 2017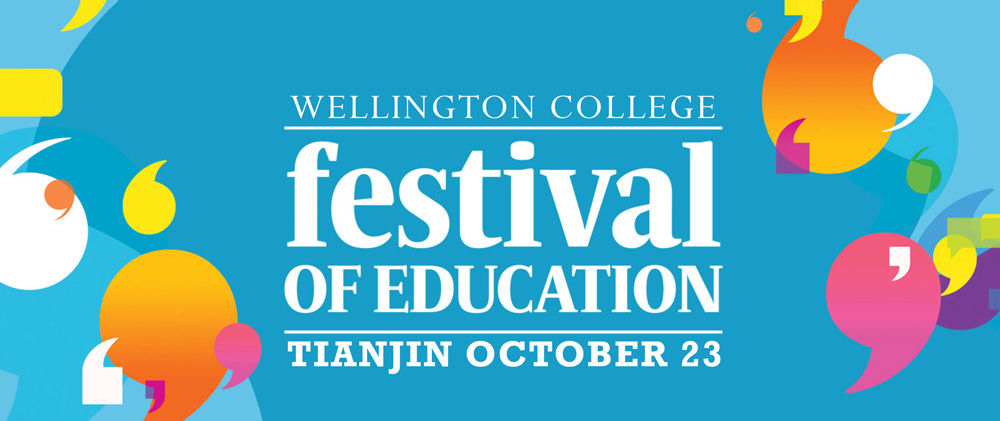 Save the Date: Wellington College Festival of Education 2017
After two successful Festival of Education events in Shanghai we now offer pupils, parents, teachers and the wider community to be involved in the first Festival of Education in Wellington College International Tianjin. The festival will take place on Monday 23rd October and it promises to become one of Tianjin's leading annual opportunities to understand, learn and question issues facing education today. The four main strands of the Festival – learning for Early Years, Wellbeing, Chinese and British attitudes to education, and general educational inquiry – will form the basis of the event and provide broad organizational guidelines. This year, in addition to a range of exciting talks and discussions, there will be a number of WellingTEN talks with education at their heart. The festival will not only be available in Tianjin but also across the Wellington group of Colleges starting in Shanghai on the 20th -21st October, Hangzhou on the 22nd, finishing in Tianjin on the 23rd. So, whether you are a parent, an educator or someone who is interested in teaching and learning, there is plenty on offer during the festival. Save the date and join us!
List of Speakers 2017
Shonette Bason Wood - CREATING OUTSTANDING EARLY YEARS
Michael Bywater - THINK DIFFERENT OR THINK SAME: APPLE, IBM, BRITAIN AND CHINA The convergence of the two Higher Education systems and how to (a) get on board and (b) thrive
Richard Farmer - WHICH APPS DID SHAKESPEARE USE? ARE WE LEARNING BETTER NOW?
Debra Kidd – DILEMMA-LED LEARNING: TEACHING WITH MORAL PURPOSE IN MIND
Ian Warwick - CHALLENGING AND SUPPORTING MORE ABLE LEARNERS AS TEACHERS AND PARENTS based on worldwide research and effective practice
David Agoha - BEYOND THE CLASSROOM the importance of building relationships with students and parents beyond the classroom
Jonathan Lewis - BUILDING A PASTORAL COMMUNITY IN A INTERNATIONAL SCHOOL Strategies that involve the development and consolidation of a Pastoral community.
Divya Jesudoss - PICTURE PERFECT PRACTICE: Images in teaching and learning
Dr Yang Yang - HOW TO BE A PARENT WITH GLOBAL PERSPECTIVE: Comparing Chinese and Western education and encouraging parents to establish a global perspective in order to support their children to develop their 21th century's soft skills.
Sonia Bradley - SEN IN THE INTERNATIONAL MAINSTREAM: Examining the challenges facing schools with identifying and delivering SEN in the international context
Yang Zhou - CHINESE LANGUAGE LEARNING IN BILINGUAL EDUCATION: Chinese language development of students who have Chinese native/half native/native, but overseas backgrounds and want to be bilingual/multilingual
Toby Roundell - THE PERFORMER AND LISTENER AS CO-CREATOR: A workshop where those who attend will be introduced to and then perform 'Sticks' by the American composer Christian Wolff
Paul Findlay - THE BEST OF BOTH WORLDS: When East meets West in education, what might a "Middle Way" look like?
Ticket Options
Festival Tickets are now available The Wellington College Festival of Education will take place on 23th October 2017 at Wellington College International Tianjin. Please click the link below to order tickets online.
http://www.tryclearcut.com/event/IkrOB7pb
For group bookings of five or more, we offer booking discounts. For pricing details regarding group bookings, please contact the Support Team at:
events.tianjin@wellingtoncollege.cn
Wellington College Festival of Education 2017 will be the education event of the year in Tianjin - be part of it! Please do get in touch should you have any questions regarding the festival or you can visit the Festival of Education website on the information below. Kind regards, Wellington College Festival of Education team
events.tianjin@wellingtoncollege.cn
http://www.festivalofeducation.cn