The Week Ahead | Happy Mother's Day
Happy Mother's Day
by Dionne Zantua, Head of Early Years
As we celebrate Mother's Day this week, I often times reflect back as a teacher where I have taken the role of a mother in the class.  It is something that Early Years teachers instinctively do, to look after, not just the educational but also all the other aspects that make up the whole child from the minute they walk into your classroom.  Just like mothers, great teachers understand how their influence can have an impact in children that goes beyond the classroom and can last a lifetime. Our week began with a wonderful time at the Tianjin Zoo with Eaglets children and their parents.  Nursery learned about the various animals that live in the rainforest and Reception children brought their "magic bean' plants from home and talked about their plant diary.  The Y1 children continued with their topic on holidays and learned how to use grid and coordinates to find a treasure. Children made delicious biscuits for mum with Chef Olivier on Thursday and our week ended with a special celebration for mothers during our Nest assembly and Mother's Day briefing.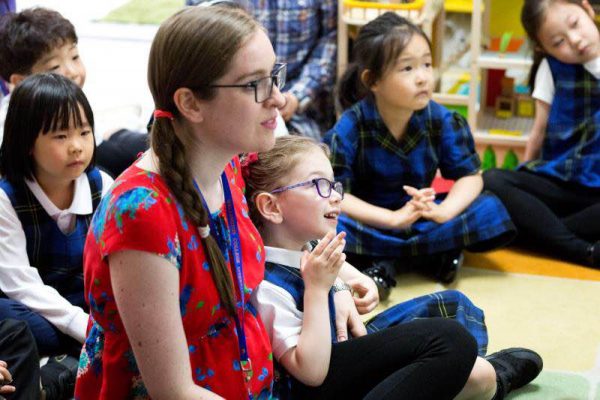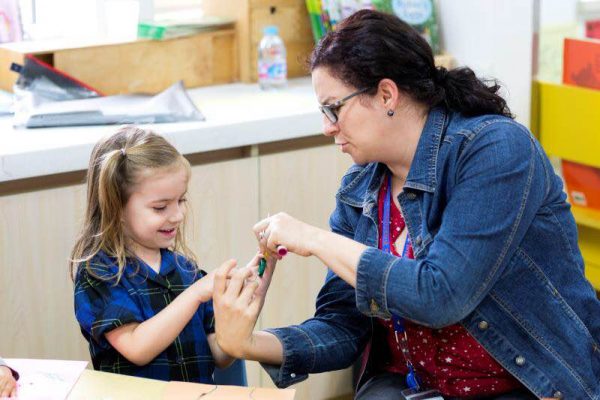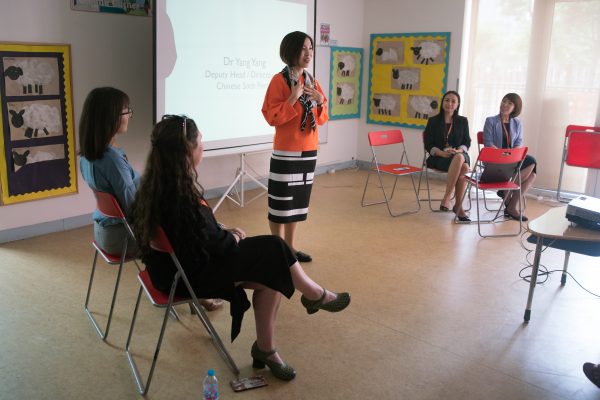 Mother's Day briefing with special guests, Mrs Sonia Bradley (Deputy Head of Junior School), Mrs Lisa Li (Deputy Head of Early Years) Mrs Agnes Cui (Admin Support) Mrs Yang Yang (Deputy Head) and Mrs Dionne Zantua (Head of Early Years).
Year 1 News
Y1 children will continue with their topic on Hooray…let's go on holiday! and will be focusing on holidays in the past and sequencing them in order form oldest to newest. In literacy, children will be learning to use adjectives to describe nouns and will go on an adjective hunt and write shape poems using adjectives.  In Maths, we will be consolidating our understanding of positional language and how to use grid coordinates and use a grid and coordinates to find treasure.
Reception News
This week has been super busy! We had a visitor in to see Miss. Sam & Miss. Nini doing their teaching. We made biscuits for our Mummies for Chinese Mother's Day and we had 'Mummies Morning' where some of our Mummies joined us for a story and craft activities in our class. We also started our new topic of 'Minibeasts' – this week we read the story of 'The Very Busy Spider' by Eric Carle. Next week will be getting ready for our Reception Assembly on Friday 18th May, which will be all about our topic of 'Minibeasts'. We will also carry on learning different Minibeast facts. In Numeracy we shall continue to practise adding 1 and 2-digit numbers by counting-on on a number line.
Nursery News
We continued our Jungle Topic by looking at the animals that live in the different layers of the rainforest. The children had fun arranging the animals at the correct height of a jungle tree. They also ordered the animals by size and height. They were involved in preparation to Mother's Day by making gifts for their mums and learning a lovely Mother's day song. The children enjoyed making heart shaped cookies for their mothers with chef Oliver as well. Next week we will start a new topic of Minibeasts. Our story of the week Superworm by Julia Donaldson will be followed up by exploring a fascinating world of minibeasts.
Eaglets News
I am sure we all agree we had a long hot and exciting day at Tianjin Zoo. The children certainly recognise the animals saying the names in both Chinese and English. Thank you all for your fantastic contribution to making the day go so well, especially Gavin and Ali's mom. Also, your generosity as a group shown to each other is a joy to observe. So many treats shared by everyone.  Our book this week is a well-loved story by Rod Campbell entitled, "Dear Zoo" and we are excited about it as this links well with our visit to the zoo last Tuesday.  We finished the week by making lovely cards for our mums and baking delicious biscuits for them to enjoy.

MEET THE MASTER Common Room 1400hrs-1515hrs, Thursday 17th May
This week, the Meet the Master slot is aimed at parents of pupils in Years 2 to 6. If you would like to attend, please confirm via email with Ms. Emma Shi (emma.shi@wellingtoncollege.cn) by Wednesday 16th May. There is an additional presentation this week by the Bursar, who will be unveiling the new school uniform for 2018/19. All parents are warmly welcome to the session.
SUMMER FAIR Saturday 19th May
Our annual celebration of summer is next weekend. The forecast is set fair and the range of activities for children of all ages has never been greater. 45 musical acts, all drawn from the Wellington community, will perform on our stage during the Fair and we have some wonderful prizes to be won in the raffle draw. Pupils, staff and parents have worked very hard to make the day a real highlight of the year for the school, so please do come and share in the fun by buying your tickets in advance. Our theme this year is respect for the environment and as part of our commitment to keeping Tianjin green, we are only issuing tickets online and they will not be available for purchase on the day. Please scan the QR code on the poster in the Week Ahead to buy your tickets. Each ticket comes with a chance to win one of our fantastic raffle prizes.
Summer Fair Notice
As a result of some heightened security requirements at major public events in the city, we have been asked by the authorities to check all identification on entry to the school on 19th May.  This means that, for all members of the Wellington community, you will need to bring your College id card with you. If you do not have one, please bring along your passport or identity card. I apologise for the inconvenience, but safety is obviously our shared goal for all our community and visitors.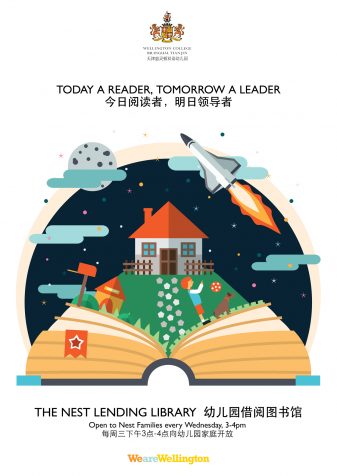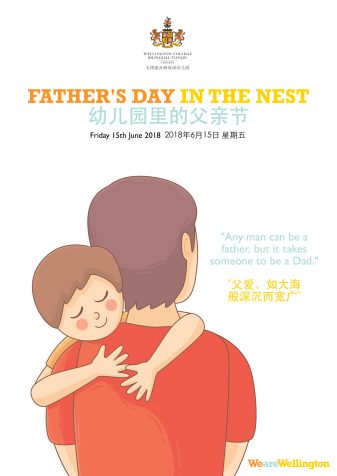 Nest Open Morning 0830hrs-1100hrs, Wednesday 16th May
Nest parents are invited to our Open Morning on Wednesday 16th May from 0830hrs to 1100hrs. Please join us for a tour among the different groups from Eaglets to Year 1. It will be a wonderful opportunity for parents to experience the learning that is taking place. If you are interested in attending, kindly contact Agnes Cui to reserve your space. Agnes Cui: Agnes.cui@wellingtoncollege.cn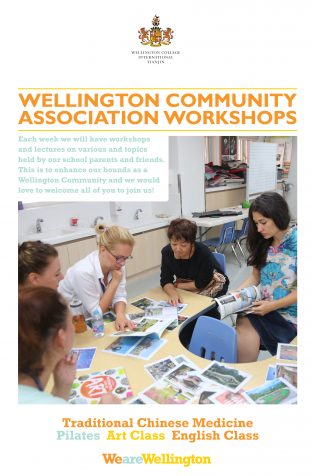 Reading Group (Language in Chinese) MB125 0900hrs-1200hrs Thursday
Welcome to Reading & Sharing Class! This event was inspired by some of the Year 6 mums who felt that they would like to create a chance to exchange ideas on topics other than kids and the school's daily routine. Here is what we will do: reading books over two or three weeks, then sharing ideas and listening to each other in two or three hours. Let's make this Reading Group a special moment only for yourself as well as for the book you like. Please feel free to contact me at 712205@qq.com.
Positive Parenting Class (Chinese language) MB125 9:30hrs-11:30hrs every Monday Charges: 30RMB/time 
Positive Discipline is a programme designed to teach young people to become responsible, respectful and resourceful members of their communities. Based on the best-selling positive discipline book by Dr Jane Nelsen, it teaches important social and life skills in a manner that is deeply respectful and encouraging for both children and adults. Parents will learn to avoid power struggles while helping their children to learn self-control and self-discipline. Classes are in a small group setting, allowing deeper discussions and very personalized experience. www.positivediscipline.com

Art Class Junior Art Room 0830hrs-1100hrs, every Friday
Dear Art Lovers and Environmental supporters, there will be a few words for everybody. Art lovers first - just letting you know that WCA ART Classes have started with textile exploration, doing a very old technique called Batik. Painting on textile, lots of fun, applying knowledge to a new medium, plus a totally new approach of thinking in material. Come and join us. Regarding the Art Recycling ASA - please put May 18th in your schedule, as this is the date when the winners of the ART Recycling Challenge will be announced in Hard Rock Café Tianjin. Environmentally aware people, as well as those who are interested in improving themselves in that field, will enjoy our ART RECYCLING Activity at the Wellington Summer Fair on May 19th. Since we will be making a group Art project in which everybody can participate, please join us at the ART RECYCLING stand and help save the planet. Happy to work on making Earth a better place! See you at the Wellington Summer Fair.

Lower Level EAL Class MB 235 0830hrs-0930hrs, every Tuesday
This class is for beginner level learners who would like to improve their grammar, vocabulary and all-round language skills.
Higher Level EAL Class MB 231 1100hrs-1200hrs every Thursday 
This class is for more confident learners who would like to extend their grammar and vocabulary and will have a focus on improving spoken fluency.
MB125 1000hrs-1100hrs every Tuesday Mandarin
We are holding a Mandarin language group to help foreign parents living in China. We will use different scenarios to help you speak in different situations. We will also explore local customs and practices. We welcome those who have some experience in PinYin.

Pilates Dance Studio 0900hrs-1000hrs every Tuesday
0930hrs-1030hrs every Friday 
Pilates is physical exercise system developed by Joseph Pilates. It is complete coordination of body, mind and spirit. Pilates focuses on core strength and balanced muscle development as well as flexibility and increased range of motion for the joints. So, don't hesitate, join our classes and feel better. You are warmly welcomed.

Yoga Dance Studio 0900hrs-1000hrs every Wednesday
Welcome to our yoga classes at Wellington College. Yoga philosophy and practice has its origin in India. The word Yoga comes from the word "yuj", which means "to yoke", to unite your body and mind. Regular yoga practice helps your body to become strong, flexible, balanced and healthy. The same will happen with your mind. Yoga has become very popular all around the world for its healing benefits. It doesn't matter if you are new to yoga or regular practitioner, everyone is welcome.